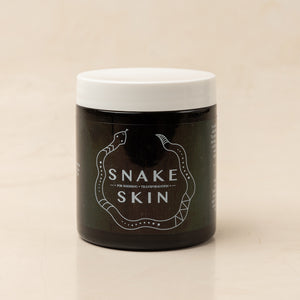 A medicinal, botanical infused body scrub to serve as your ally during times of letting go, change, & transformation. To physically + energetically shed old layers of yourself that no longer serve you, just as snakes do. Allow these plants to activate the body, clear + cleanse, move stagnation, heal wounds, relax tension, regenerate your inner + outer layers, & guide you back to yourself + your purpose
Create sacred space in your shower or outside with earth + water. Wet your body & cover yourself in this scrub. Close your eyes & take a few deep breaths, feel the plants infusing into you. when you are ready, state out loud all you wish to shed, release, and transform. Gently scrub it all away + lovingly rinse. Now your done. Feel your new vessel, light and beam with life. Thank the plants for their medicine. 
Ingredients : Angelica*, Cacao*, Kava Kava*, Ginger*, White Sage* (farm grown), Comfrey*, Calendula*, Nettle*, Sea Clay, Wild Pacific Sea Salt, Olive Oil*~+, Sunflower Oil*, Vitamin E Oil*.
*Organic / ~Cold Pressed / +Unrefined