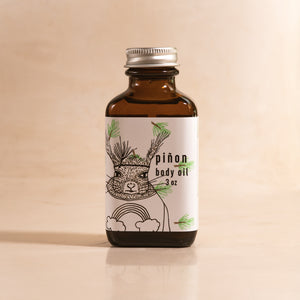 Infused with piñon resin gathered from the wilds of New Mexico, the Piñon Body oil will quickly transport you back to the high desert. Deeply nourishing, it's the perfect moisturizing for post-bathing or after-sun care.
3 oz glass bottle. Ingredients: Organic jojoba, fractionated coconut oil, wildcrafted piñon resin.
Dryland Wilds creates handcrafted desert perfumes, body oils, lip tints and balms in their home state of New Mexico. Fragrance is extracted from dryland plants and blended with other wildcrafted botanicals to capture the true delight of the desert. As stewards of the land, Dryland Wilds helps to teach the many different uses of these native plants, searching for the most aromatic scents.