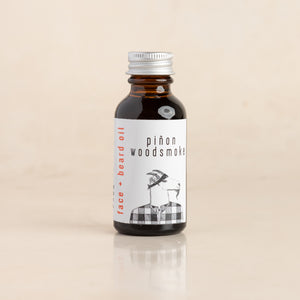 Meant to soften whiskers and soothe skin, the Piñon Woodsmoke Face + Beard Oil, will leave you smelling irresistibly like the desert wilds – rich smoke and Oakmoss with high notes of Douglas Fir needle and crisp night sky.
1 oz glass bottle. Ingredients: Castor*, apricot kernel*, argan*, and jojoba* oils with 100% wildcrafted botanical fragrance; *certified organic.
Dryland Wilds creates handcrafted desert perfumes, body oils, lip tints and balms in their home state of New Mexico. Fragrance is extracted from dryland plants and blended with other wildcrafted botanicals to capture the true delight of the desert. As stewards of the land, Dryland Wilds helps to teach the many different uses of these native plants, searching for the most aromatic scents.